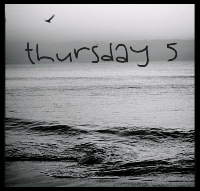 Thursday 5 is back in full force! This week has sucked. But the thing about T5 is it's a great opportunity to see why it didn't! Our words this week are...
Outstanding
Adored
Cool
Scentsy is going Outstandingly well! I am so happy with it. My goal was to just make $100 in my first month. I've already passed that! My new goal is to be Certified by the end of my first month. This will be March 6th. I'm $365 away from that goal! Click the link on the right if you'd like to help me reach it! :)
After feeling horrible for a week, I'm starting to feel a tad better and

Refreshed

!
Speaking of this week, I felt horrible, but Brandon made me feel so Adored! He took such good care of me and was such a sweetie the whole time!
This is the fat kid in me talking, but I was absolutely

Cheerful

when I got my box of Tagalongs this week! I missed them last year, so it's been a while! They're so good!
Being sick has perks - I only had class 2 days this week! And after tomorrow I'm off again until Tuesday!
Cool!