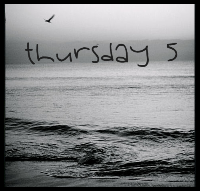 It's that time again! It's been a while since I did a Thursday Five so since everything is calming down around here, here goes! Here are things this week that have made me...
1. We went shopping the other day with our wedding gift cards! I love shopping, especially when it doesn't cost me anything! We got 650 thread count sheets on clearance at BB&B and they are amazing.
2. It's been rainy and icky the last couple days, which sucks when I have to go out. But it's perfect candle lighting, book reading, snuggle on the couch with hubby and Charlie weather!
3. I keep hearing of Marines losing their lives in combat and it just makes me ever more thankful that mine is safe at home with me. Truly thankful.
4. I registered for classes Tuesday! I wouldn't normally be excited about classes, but my schedule rocks. Pharmacology, Nutrition, Human Sexuality and Intro to Health Ed. The upside - I only have class 3 days a week and I have a 3 day weekend every week. I'm so going to get spoiled.
5. I haven't mentioned it yet on here, but my new baby nephew was born on October 17th! He was 5 weeks early, but thankfully, the only problem they've had is jaundice. He is absolutely adorable and I'm so excited he's here!!
Here is Mitch about 4 days old! He's sportin' a hat I crocheted!