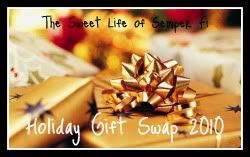 I got up this morning when Brandon went to work, and right before I went to lay back down for a little bit, the mail came!! And my package from my swap partner Diana! Diana is the blogger for Little Moments - check out her blog when you get a chance!
But for now....here's my package!
My package!
She boxed it all cute! And it had a sweet little card! Charlie, of course, tried eating the tissue paper as soon as I opened it!
And little did Diana know, she got Charlie a present too! He absolutely loves cardboard boxes.
All my presents! I got....
A fleece throw - SO cute with Santas and presents on it! And comfy too!
A kitty calendar - I love kitties!
A peppermint lollipop that's going to take me like 3 months to eat!
Snowman, mitten and snowflake cookie cutters!
And a stand mixer ornament! I thought it was SO cute!!
Close up pic of the ornament! How neat!
I loved all of my stuff, and thank you again, Diana, for being my swap partner!! Hopefully by now everyone has mailed theirs out (deadline is tomorrow!). So once you get it, write a post about it and link up so we can see what everyone else got! :) I love Christmas!