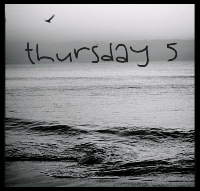 Thursday Five is back!! I'm excited that Nicole @ Flip Flops and Combat Boots is taking it over! I've missed it the last few weeks! So here are things that made me...
1. I was so
Excited
to get all my packages this week! I got our Shutterfly cards, prints that I ordered for our wedding frames and my swap package from Diana all this week!
2. The whole Christmas feeling is making me so
Joyful
! Hot cocoa, shopping for presents, decorating the tree - I love it all!
3. I'm so
Thankful
that I have wonderful friends and family to enjoy all Christmas has to offer with! I'm truly blessed!!
4. I'm super
Happy
that I got pretty good grades this semester! I've had a rough time since my mom died back in 2008, but I finally feel my focus coming back! 3 A's and a B is the best I've ever done!
5. I'm
Pumped
f
or Christmas!! Can't tell though, right? lol My aunt comes down Monday and I'm hoping to be able to spend some time with her and my cousin, and just have a good time Christmas day with the rest of the family!