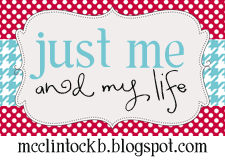 I just found this blog and I love her idea for the Friday Five! So here goes my first one! This week's topic is...
Five Things I Miss About Being a Kid
1. No bills. All the adults told me I'd say this one day, but life was so much easier when you weren't responsible for your own bills!
2. My mom.
3. Swinging. It just feels amazing!
4. Birthdays being awesome. They're kinda blah once you get older. This kind of goes for holidays in general.
5. Sundays at my grandparents' house.