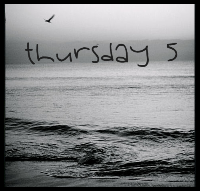 This week has been a little crazy, with school starting and all, but it's time for the Thursday Five! Here are things that made me feel...
happiness
My visit home was really nice and I got some more done on the wedding planning front!
glee
So I started school back, but most of my classes seem A or B-able, so that's really exciting!
Brandon gets paid today! Which means we get to go grocery shopping and I can get a few things for school! And start Slim Fast! Loans come in next week, so I will be REALLY exuberant then. Ha.
I've been drinking mostly water this week! And eating decently, for the most part. I'm going to give Slim Fast a shot starting tomorrow, too!
I'm officially kicking into Mary Kay gear Sept. 1. If you'd like to host a party, let me know! :D